Micheltorena Heart Stairs
Saves: 2393
Check-ins: 78
UPDATE (April 25, 2022): The beloved Micheltorena Heart Stairs (a.k.a. "Stair Candy") have been whitewashed. Fingers crossed, the original artists (Corinne Carrey, Carla O'Brien, and Mandon Bossi) repaint them. UPDATE 2 (May 26, 2022): As of today, the stairs are back! Big thanks to artist, Carla O'Brien. Across the street from Micheltorena Elementary School is this 78-step staircase. If you stand back several feet at the bottom of the stairs, you can see hearts carefully painted on the vertical part of the steps. Gaily colored in rainbow hues, this hidden staircase in Los Angeles is a lesser-known part of the Silverlake neighborhood.
Member Photos
Perfect location for a product shoot! www.shoprebelthread.com
Beautiful colors 💜💛🧡💚 its a very narrow stairway in between a house and a building . Right across a school and a coffee place :)
Cool spot! Luv the colors!
Late night stroll with my kid❤️
Paint is faint, but still a beautiful stair case
Photo shoot for www.myspeyewear.com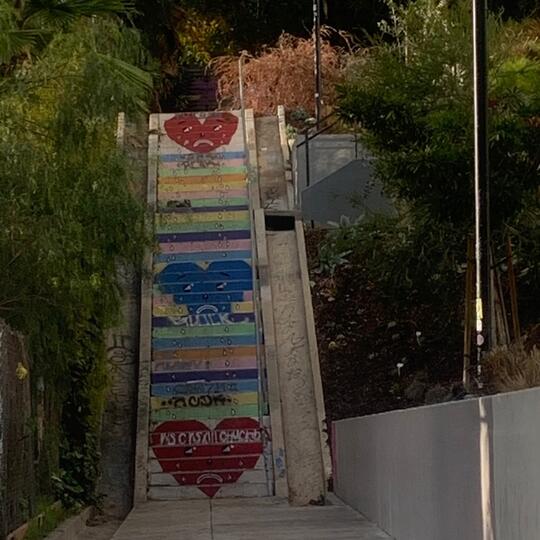 Super cool stairs Spread love and happiness! ❌⭕️❌⭕️ Mickey